Jedat releases reuse-based analog synthesis tools at DAC 2014
Jedat Inc.
---
---
Jedat releases reuse-based analog synthesis tools at DAC 2014
2014.5.21
Chuo-ku, Tokyo, May 21, 2014 — Jedat Inc. (Jasdaq: 3841), a leading developer of high-performance analog and mixed-signal design automation software for integrated circuit (IC) manufacturers, announced today it will be exhibiting at the Design Automation Conference (DAC) 2014 in San Francisco, California and will be demonstrating its reuse-based analog synthesis tools in booth #2305.
Jedat offers new and innovative analog design solutions. The company's analog synthesis tools are designed for reuse methodology and advanced feature nodes—both can reduce TAT and improve design quality.
Reuse-based Analog Synthesis
The new analog synthesis tools target process porting at both circuit and layout phase using original data and the result is predictable to designer. Also in case of advanced node, layout automation is done using matrix array style with FinFET constraints.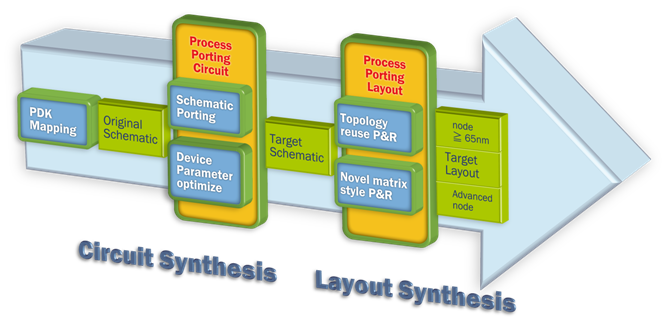 Tools consist of four tasks and customers can select each task depending on their critical design issues. Also, these are OA-based tools and there is no need to change the current design environment. Automatic reuse-based analog synthesis tools reduce design porting time!!
PDK Mapping and Schematic Porting
Circuit Optimizer
Topology Reuses P&R
Novel Matrix-Style P&R
New U.S. Market Focus
"We believe those tools will enable automation technology to be applied to analog design with predictable and practical design result, which will significantly improve the design efficiency to the worldwide customers. Also, we are ready to locate our sales and support branch to the U.S., " said Kawauichi Kazuyuki, CEO and President of Jedat.
About Jedat
Jedat offers the custom LSI design environment, the Alpha-SX series, which automates custom LSI design such as analog LSI, power device, LCD driver, and memory. Alpha-SX has brought significant improvement to an area where automation was previously difficult. The distribution partners of Jedat are located in Seoul (South Korea), Beijing and Shanghai (China), Hsinchu (Taiwan) and the U.S. West Coast. These partners provide local engineering, application, and sales support in their respective regions.
Company & Press Contact
Nobuto Ono
VP, Products Marketing & Business Development
Jedat, Inc.
3-4-14 Higashi-Nihonbashi, Chuo-ku, Tokyo 103-0004 Japan
Tel : 81-3-5847-0313
Mobile : 81-80-6572-4548
URL : https://www.jedat.co.jp/eng
Email : click here
Click here for PDF version of the release.

---