Layout design
The custom layout design platform that realizes both high quality and shortening design time by reusing the craftsmanship and automating layout design that coordinates designers and automatic tools.
■Features
Uses a variety of design techniques, to achieve a degree of freedom and  scalable design environment.
Support large scale data (Stream 100 GB scale, 10 million net scale)
Cooperates with polygon editing and net driven editing
– Enable rule-driven editing with automatic electrical potential recognition  and net tracking funct
Template based constraint driven layout
– Improve design quality using templates such as Pair group layout   
generation
Shorten the design period with a variety of optional tools specialized for a  design target
Analysis and learning function
– Follow the work procedure of the designer with craftsmanship, shorten the design period with the optimum procedure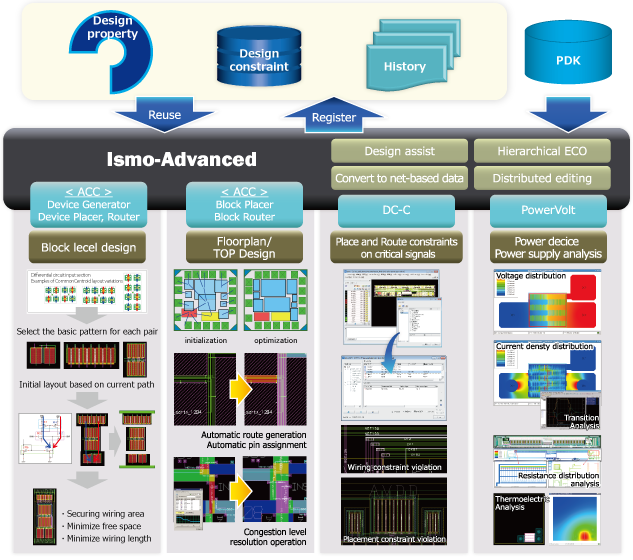 Layout Design System
SX-Meister Ismo-Advanced
Realizes a highly flexible and scalable design environment with a wide variety of design methods
Support for large scale data (Stream 100 Gbyte scale, 10 million net scale or more)
Shorten TAT by using a wide range of optional tools specialized for the design target
Integration of polygon editing and net-driven editing
Automatic potential recognition of polygon shapes and net tracking enablerule driven editing.
Push Aside function for wiring and automatic loop elimination function
Automatic net construction function when wiring is input
Constraint-driven editing
Layout editing function that preserves circuit constraints
High operability
Multi-language menu (Japanese mode, English mode)
Windows-like operability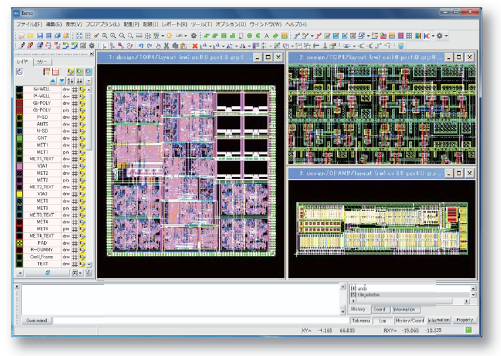 Automatic Power Device Layout Generator
SX-Meister PowerGenerator
Automatic chip layout generation for power devices (IGBT/RC-IGBT/SiC).
Reduces design man-hours by automatically generating power device layouts from simple floorplan information without requiring complex rules and settings.
Automatic generation of layout (placement and wiring) from design specifications and templates described by CSV.
Calculate device size from chip size and template, and place main cells in array.
Automatic cell placement on chip periphery area.
Automatic cell placement dedicated to the main cell boundary.
Supports modification and reallocation of main cell placement area after layout generation.